Emergency Dental Care and Tooth Pain Management
We hope that you will never experience a dental emergency, but if you do, we want you to know that we are always available. During office hours, if you are having pain or experience an emergency – such as bleeding, swelling, or trauma – please call us immediately so that we may schedule the best available time for you. We will do everything possible to treat your problem immediately and attend to your needs.
If an emergency occurs after hours, don't hesitate to call us. Dr. Vetter can be reached, 24 hours a day, through our office telephone number (949) 248-5205.
In the event that Dr. Vetter is away from the office, the message will give you the number of the doctor on call. Incidentally, you will be happy to know that due to the thoroughness of our comprehensive examinations, our patients experience very few emergencies.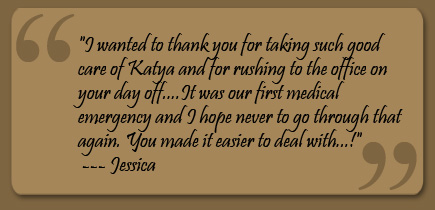 Katya's Dental Emergency