Your Winning Smile Starts Here!
Are you afraid to smile? Embarrassed about your teeth? Or maybe you just want a better looking smile. Recapturing the beauty of your smile is easier than you think. Dental veneers, the primary smile enhancement used in extreme makeovers and the choice of many celebrities, can dramatically improve the appearance of your teeth. If your job requires you to be in public, whether it is sales, training or speaking, a winning smile can improve your confidence.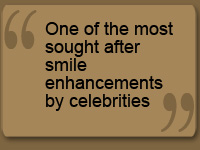 The rocketing popularity of dental veneers is due to an advancement in bonding techniques and materials over the past two decades. Now, with good dental care and the procedure performed by a qualified cosmetic dentist, your veneers can last 15 years or more. A fast treatment that can be completed in only two office visits.
What are dental veneers?
Dental Veneers are wafer-thin, semi-translucent facings that bond securely to the fronts of your teeth. Dental Veneers are durable, stain-resistant, and natural looking. Usually made of porcelain, they are custom designed by your dentist specifically for your teeth, fabricated at a specialty lab and then bonded to your teeth.
Why choose dental veneers?
Dental veneers are a safe and effective method of concealing broken, chipped, discolored, crooked, and misshapen teeth. Often only a very tiny amount of your tooth is removed to apply the veneers. Crowns may require a significant amount of tooth removal before application. Dental veneers can also be used to fill gaps and spaces between teeth.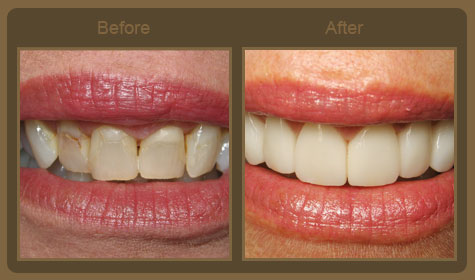 Who is a Candidate for Dental Veneers?
Anyone with healthy teeth and a normal bite can consider dental veneers. If you have any cavities or peridontal disease, these must be addressed first. An initial consultation is recommended so that Dr. Vetter may complete a thorough examination of your teeth and make the best recommendation for you.
Advantages of Dental Veneers
They look natural and beautiful. They are also extrememly durable. So durable in fact, if there were trauma to the tooth, it is more likely the tooth would facture before the bond of the veneer. And using today's adhesive technologies, they can last for years.
Disadvantages of Dental Veneers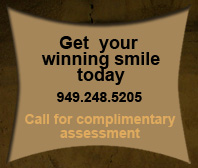 Once applied, they are final. You will not be able to remove them. Therefore it is very important to have them designed by an experienced qualified cosmetic dentist to ensure they match the rest of your teeth and your expectations.
Why choose Dr. Vetter
Dr. Vetter has been designing smiles with the latest dental veneer technology for years. Patients from all over Orange County California have chosen Dr. Vetter to perform this procedure because of her experience, her commitment to excellence, and her personalized care.
Dr. Vetter's Dental Veneer Process
Free complimentary assessment
The first step toward obtaining your winning smile is a free complimentary assessment performed personally by Dr. Vetter. At this consultation visit, she will examine your mouth and discuss treatment options along with pros and cons of each treamtent.

Once you have decided on veneers, a veneer preparatory visit is scheduled. During this visit, Dr. Vetter will take study models and photographs of your teeth. In addition, a tiny amount of the front of your tooth will be removed in order to allow room for the veneer. The color and shape of the teeth will also be determined. You are then fitted with temporary veneers. After that visit, Dr. Vetter will work with her lab to create your custom veneers to ensure they match your teeth shape and color perfectly.

The final veneers are tried on during this visit. If you and Dr. Vetter are extremely happy with your new veneers, then they will be bonded in, and you will walk out of the office that day with your new beautiful smile. If any last minute finessing or detailing is needed at the laboratory, then it will be scheduled. Dr. Vetter will not finalize your veneers until you are both satisfied with the results. Although your teeth may be a little sensitive to food or beverages for a couple days, generally there is no recovery process.