About Our Dental Office
Patient Comfort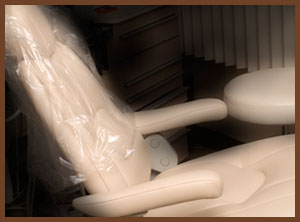 We take pride in making your dental experience as pleasant and comfortable as possible. We will thoroughly present treatment options, explain our procedures, and educate you in the maintenance of your oral health. We use the latest techniques and anesthetics to assure you are comfortable during each procedure. It is our goal to have you feel secure in the treatment of your dental needs.
Our office is conveniently located in the Club House Plaza, right next door to Fratello's Italian Restaurant. Our friendly and courteous staff will greet you and offer you a tour of our office. Drinks and healthy snack foods are always available in our reception area. Please feel free to take advantage of our family rated videotapes available for your viewing. A Walkman C.D. Player is available as well for your enjoyment and we encourage you to bring musical selections of your choice for your listening pleasure.
Patient Protection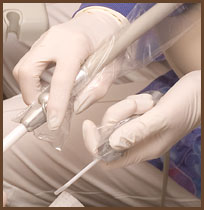 In the last few years, patient protection has become an issue of public concern. With the discovery of the AIDS (HIV) virus and the medical implications of Hepatitis-B, it has become necessary for health care facilities to consistently apply state-of-the-art sterilization and disinfection techniques to provide patients with maximum protection.
In our office, your safety is our highest priority. Throughout the day, we continuously and thoroughly sterilize our equipment for your protection. Our protocol for sterilization includes the following:
Before and after each patient appointment, all treatment surfaces (e.g., countertops, chair surfaces, lights, x-ray machines, and trays) are disinfected with the most effective and safest products available.
To ensure your safety, we follow a number of standard sterilization procedures with all instruments and handpieces. First, they are brought into our sterilization room and placed in an ultrasonic cleaner to remove even microscopic debris. The instruments and handpieces are then rinsed thoroughly before being sterilized in an autoclave, which runs for 20 minutes and reaches a temperature of 400 – 425 degrees, thereby destroying all bacteria and all viruses.
Our autoclave and dry heat sterilizer are monitored regularly to ensure their effectiveness and safety.
Staff members use masks, safety glasses, and new gloves for each patient.
All staff members are updated annually in proper patient protection procedures and have been vaccinated against the Hepatitis-B virus. We will be happy to answer any questions you may have regarding patient protection and give you a personal tour of our sterilization facility.
Advanced Technology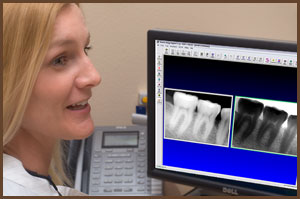 We are constantly striving to provide our patients with the finest dental care available. Our investment in advanced technology means a long-term investment in your future, because state-of-the-art technology invites informed decision-making and enables patients to make wise choices concerning their oral health. Dr. Vetter offers the latest dental technology for your benefit:
Digital Radiography
This form of computerized radiography uses a standard dental x-ray generator as its radiation source. An intra-oral sensor that is placed in the mouth collects the image. The color capabilities show our patients more meaningful pictures than black and white. The "zoom" capabilities allow our patients to view localized areas for a better understanding of their diagnosis. Digital radiography reduces radiation exposure 80-90%.
Intra-Oral Camera
This camera allows us to quickly and easily photograph the inside of your mouth. The photographic image can be projected onto a color monitor. Because this magnification allows you to see your mouth more clearly, you are better able to participate in your treatment.
Radiographs
Radiographs (x-rays) assist in the detection of cavities between the teeth that may not be visible in the mouth. Cavities that are just beginning can also be detected earlier on an X-ray so that your treatment becomes less invasive and costly.
Computers
Our Dentrix computer software system is designed to efficiently manage the most complex information in the dental industry. Our system handles treatment and payment options. We make sure our computer system takes care of the technicalities so that you are provided with the most up-to-date information available.
Air Abrasion
Fine particles of a sand-like material are released under high pressure directly to a localized tooth surface. These forced air particles replace "drills" to remove decay from the tooth surface, making some procedures less invasive, more comfortable, and faster for the patient than conventional treatment. Typically, no anesthesia is required for this procedure.
Nitrous Oxide
This gas, used for patient comfort, can be used during restorative or surgical procedures. Dr. Vetter will be happy to discuss the indications for nitrous oxide use at your request.
Local Anesthesia
This anesthesia is placed into the gum tissue at or near the area to be treated, producing a numbing effect that wears off after the procedure. Most dental patients find that the use of local anesthesia allows them to experience dental treatment comfortably.