Dental Crowns
A crown is a restoration that covers a tooth in order to strengthen it as well as restore it to its normal shape and size. A crown may be placed to support a large filling when there is little remaining tooth structure, attach a bridge, protect weak teeth from fracturing, or restore fractured teeth.
A tooth that has been treated with root canal therapy will require a crown following treatment to provide strength and support to the tooth. We only use materials for crowns that will provide the longest lasting benefits to our patients.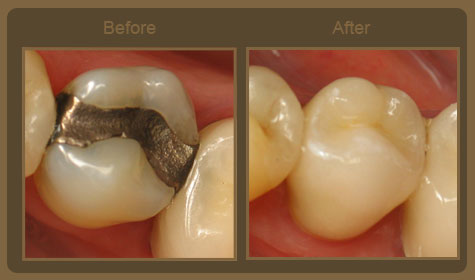 Why restore with a dental crown?
Dr. Vetter will always recommend the most conservative treatment possible for your situation. However, there will be times when a crown is necessary. A crown is used when there is not enough tooth structure left to hold a large filling, when a tooth is fractured or broken, and to hide discolored misaligned teeth in the patients that are not good candidates for dental veneers.
Dr. Vetter's Dental Crown Process
Once Dr. Vetter determines a dental crown is indicated, an appointment will be scheduled for tooth preparation.
During the dental crown preparatory visit, Dr. Vetter will:
Remove old filling from the tooth
Remove any decay
Place build-up material to fill in where old filling and decay was removed
Finesse preparation of tooth to allow for crown
Make impressions of your tooth
Choose a crown color that matches the color of the surrounding teeth
Fit you with a temporary crown
About 3 weeks later, you will come in for your second visit where the temporary is removed and the permanent crown is bonded securely. You will be able to eat normally after this visit.
There is not much difference in recovery after the crown preparation visit then a normal cavity filling visit. In both cases the area around your tooth may be a little sore or sensitive for a day or two. With crowns, your gums may also be a little sore due to preparation of the gums for the crown. Most patients do not need anesthesia for the final crown appointment, and you will be able to eat normally.
Dr. Vetter understands the reservations many have with dental work and strives to make the process as comfortable as possible for you. If you have any concerns, please feel free to discuss them with Dr. Vetter. You may bring in a favorite DVD or video to watch during your procedure. Dr. Vetter has a variety of pleasnt music to choose from, and by all means request the dental chair massagers be turned on!